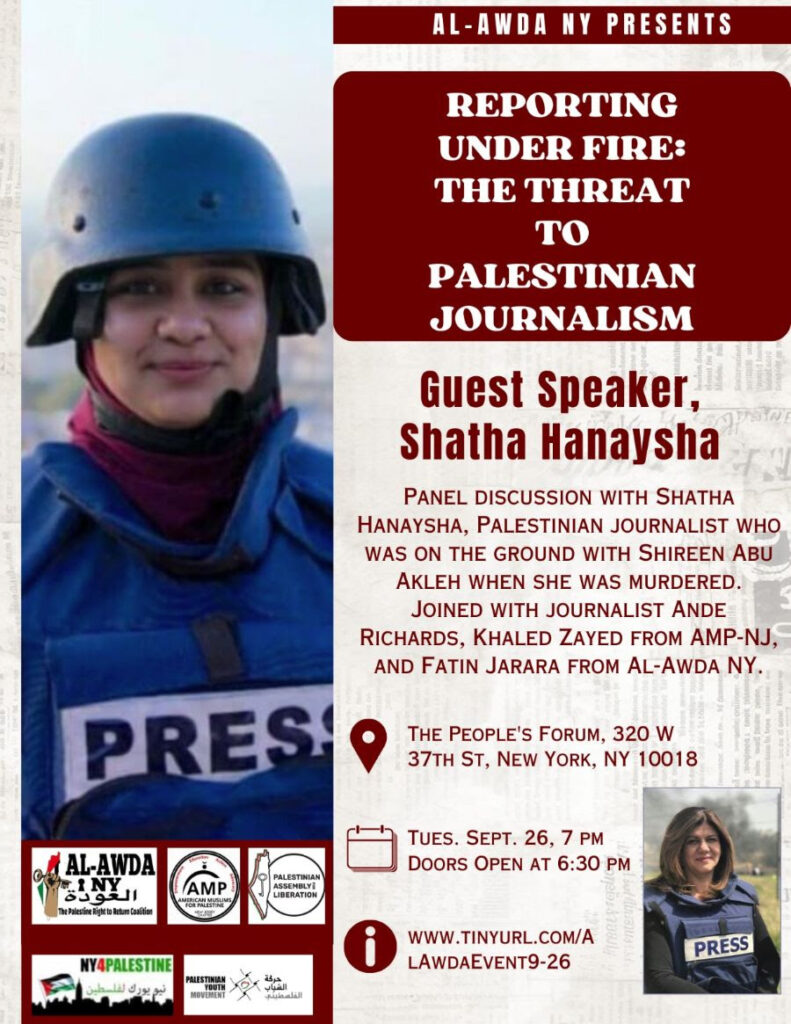 Join us in welcoming Shatha Hanaysha, Palestinian journalist who was on the ground with Shireen Abu Akleh when she was murdered by the IOF.
Tuesday, September 26
7pm
The People's Forum
320 W 37th St, New York 10018
PANEL DISCUSSION WITH PALESTINIAN JOURNALIST, SHATHA HANAYSHA — EYEWITNESS TO THE ASSASSINATION OF SHIREEN ABU AKLEH
Tuesday, September 26, 7 pm, at The People's Forum, 320 W 37th St, New York 10018
Doors open at 6:30 pm
Join us in welcoming Palestinian journalist Shatha Hanaysha, based in Jenin, Palestine, who was with Shireen Abu Akleh in Jenin when Shireen was murdered in cold blood by the IOF.
Joining Shatha Hanaysha on the panel will be journalist Ande Richards, NJ Advance Media; Khaled Zayed, AMP-NJ; and Fatin Jarara, Al-Awda NY/NJ where they will discuss the role of journalism in the Palestinian resistance and related issues. There will be opportunity for Q&A from the audience.
Khaled Zayed serves as the education coordinator for the New Jersey branch of American Muslims for Palestine. He is an IT director and adjunct faculty member, as well as an advocate for justice for Palestine. Khaled has been an activist for over 20 years and served as president of the Palestine Solidarity Committee during college. He has been working with AMP for 5 years.
Ande Richards is the Managing Producer for Mosaic a new platform from NJ Advance Media. Ms. Richards delves into groups that need more attention like our veterans, LGBTQ+, disability community, and people impacted by violence. Ms. Richards traveled to Haiti for two consecutive years where she produced photo essays documenting the LINKS as they provided support to schools, orphanages, and prisons with supplies and donations along with conducting dental and medical pop-up clinics.
Fatin Jarara is a long-time Palestinian organizer based in New York City who has since her teenage years called Al-Awda NY her political home.
Directions: 1, 2, 3, 7, A, C, E, M, N, Q, R train to 34th St – Penn Station or 42nd St – Times Square
Endorsed by American Muslims for Palestine-NJ, NY4Palestine, Palestinian Assembly for Liberation, and Palestinian Youth Movement